I'm not musical by any means.. I mean, I can't carry a tune for the life of me. Ask my kids, or husband who have to listen to me sing in the car! Haha!! My kids however really enjoy different aspects of music. My oldest, loves to sing, and can remember the words to any song he has heard. (Sometimes he truly amazes me) My two girls just LOVE to dance, and sing. They will turn anything into a song. (This to can be pretty humorous at times)
So how do we incorporate music in our schooling? Well, other than my oldest and youngest taking piano lessons we really don't. In our neck of the woods, it is really hard to find much opportunities to incorporate music. My middle daughter would love to take voice lessons, but many places around here don't do them at her age. Plus the cost of all these lessons, gets very expensive.
That brings me to Music Together, a program we recently had the opportunity to review. Music Together is about providing the highest quality music and movement experiences to young children, while involving their parents and other adult caregivers.
Here is their Philosophy:
All Children are Musical

Therefore, all children can achieve basic music competence, which we have defined as the ability to sing in tune and move with accurate rhythm.

The participation and modeling of parents and caregivers, regardless of their musical ability, is essential to a child's musical growth.

This growth is best achieved in a playful, developmentally appropriate, non-performace-oriented learning environment that is musically rich yet immediately accessible to the child's and the adults participation.
Music Together also has groups that meet in over 2000 communities and 40 countries. Bringing music to all kinds of children! You can find a class near you here.
We got to check out their Music Together Family Favorites Songbook for Teachers and CD. So what exactly do they have to offer? The Music Together Family Favorites CD has 19 of the most popular songs from 9 Music Together Collections. (Which they have won a lot of awards) With the CD you get an informative booklet. This booklet is 32 pages, with a page for each song with a couple suggested activities to go along with that song. Along with information about the song. The CD and booklet come in a nice tri-fold case, and it is very well put together.
The songs included on this CD are:
Hello Song

Biddy Biddy

Splishing and Splashing

Ridin' in the Car

Stick Tune

She Sells Sea Shells

Playin' in the Kitchen

Palo, Palo

John the Rabbit

Spin and Stop

Mississippi Cats

One Little Owl

Goin' for Coffee

Obwisana

I've been Working on the Railroad

Dancing with Teddy

Allee Galloo

May All Children

Goodbye, So Long, Farewell
There are lots of songs on here, that many of us know already. Some of which I would consider classic songs. My kids really like I've Been working on the Railroad, and my girls really like Dancing with Teddy. Our main music listening happens in the car, so the first few times we listened to these was in the car. Then when we got home, you could always catch one of us singing one of these tunes. Haha! For me it was usually I've been working on the Railroad.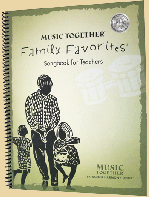 Now on to the Music Together Family Favorites Songbook for Teachers. This book is a nice 112 page spiral bound book. It starts with a nice section on "How to use this book" which was very helpful. Then it moved on to tell about their philosophy, and principles. It also talks about the types of songs, and activities, working with instruments and props, as well as using this book with children with special needs. The first part of this book has great information, and should not be skipped.
After you read all of that information, the next part of the book is the Songs. Listed in Alphabetical order, this includes information about the song. It gives you the sheet music, which is nice if you have a child that wants to try and play along. As well as a few suggested activities.
The last part of this book is a Reference Section with information about their program, and classes.
How we used this product:
A number of times we just put it on to listen to in the car, or we would play it while doing our chores. My kids love to just listen to music. A few times we choose a couple of songs, and did a few activities to go along with them. My middle child liked to just put the music on and dance.
Music Together Family Favorites is geared toward infant- to second grade.
Our Thoughts:
As I just stated this product is geared toward infant- to second grade. I will have to say my two girls really enjoyed this a lot, but they are also more into singing and dancing. However, with that being said, that does not mean that my 10 yr old son did not enjoy it all. In fact it was quite the opposite. While he did not really care for the activities as much, he liked listening to the music, and even attempted a couple of songs on his piano.
I really thought this was a lovely CD. I love the concept they are trying to teach. I wish we had been able to join a class when my children were younger. I think for any homeschooling family this would be a wonderful addition to get some music in there. Another great thing is that the music is all different. My family has always loved a wide range of music, and this was no different. I even enjoyed getting in on some of the fun activities. We loved coming up with different things around the house, to try to add a beat to any song.
Price:
You can buy the Music Together Family Favorites Songbook for Teachers for $29.95 or you can purchase the combo with the CD for $39.95. That is a $5 savings from buying them seperatly. Music Together is also offering an additional $2 off with the coupon code "Schoolhouse" at the check out.
See what the rest of the TOS Crew is saying about Music Together!!!

*I was given a copy of Music Together Family Favorites Songbook for Teachers and CD in exchange for my honest review as part of the TOS Crew. All opinions are 100% mine or my monkey's.