Physical Education has never been my strong point. I'm not athletic at all. I'm not huge into sports, and I was never coordinated enough to dance or do gymnastics'. However, with that being said, I was recently diagnosed with Diabetes's and have struggled with weight most of my life. As you all know the raising obesity rate in the world, is not really encouraging me much. So, I have always been on my kids about being active. From the day they were able to crawl, we were doing things.
When it came to school, trying to incorporate Physical Education usually took a back burner. Since, I knew they were going outside almost everyday to run around, and "Play". I thought they were getting enough. Boy was I wrong! Doing P.E. increases brain activity in children, and ADULTS!!! Who knew?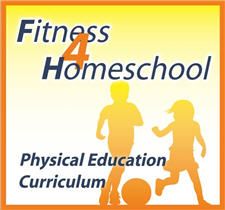 Family Time Fitness has a Fitness 4 Homeschool curricula. This program is designed for parents to be able to teach children physical education without any pervious knowledge. Not to worry it is also designed by experts in fitness, nutrition and body movement. The program is designed for grades K-8th.
My kids are all in that age range, but I think a lot of the activities could be done with younger children. Now if you have your child in a bunch of sports, dance, and such. Your budget is probably really big after buying equipment and the cost of the program. Well good news! You can purchase this entire Core 1 curriculum for $57!! As any homeschooler knows that really isn't that high.
What is included:
260 Planned Lessons
Startup/Training guide for parents
1 pg summaries of each lesson
LOTS of Video Demonstrations of exercises
Assessment Tools
and more!
Upon starting this program you really need to read the Startup- Training Guide. This gives you lots of teaching tips, materials lists, and links to the assessment tools. You receive the materials in PDF files, and within those files are links for you to watch a YouTube Video for demonstrations of some of the activities. There were a few of those we had to watch, and they came in very helpful.
Each Lesson is divided up into 13 modules of 20 lessons each. This program is meant to be used 5 days a week. Each one taking 30-45 minutes each, with an extra 15 minute out door activity. We were able to get in about 3 days a week, due to other commitments. But I feel even that was very beneficial.
Most of the equipment that you need for Family Time Fitness is stuff you will find right around your home. There was only a few things we had to improvise, or pick up. Here are some of the things you would need..
Exercise Mats (we used some blankets)
Measuring tape
Cones
Stop Watch (I had an app on my phone)
Playground Balls
Foam Balls
Jump Ropes
Hula Hoops (we had a hard time finding these..)
Bean Bags
Each Lesson includes…..
List of Supplies
Warm up & Cool down
Suggested Recovery Time
Activity or Game Play
Outdoor Activity
Our thoughts:
My kids loved this! They thought it was very fun, and couldn't wait for each lesson. They enjoyed that lots of our activities were games, or things they had played before. My children also loved that I got right in there and did some of the activities with them. We had some good laughs over hula hoops. Surprisingly only a few of us are really any good at it.
It showed me that I needed some more Physical education myself. There were some days that after a lesson I was very sore.
We plan to finish these lessons out, and purchasing the next Core when it comes out next year!
Recap:
To just recap Family Time Fitness is meant for grades K-8th, but others can use it. You can purchase Core 1 Curriculum for $57!
In January 2013 they are releasing Core 2!
If you buy the Platinum Package for $137 (not really a bad value)
Platinum Package includes:
Core 1 (260 Lessons)
Core 2 (260 Lessons)
K-1st Workbooks
2nd-3rd Workbooks
4th-5th Workbooks
Basketball Module
Home Educating Family Magazine Subscription
See what some of the other TOS Crew Members have to say about this product!!!
* We were given this product free of charge in exchange for an honest review as part of the TOS Crew. All opinions are 100% Mine or my monkeys!