Teaching your children how to write reports? Or have a child that struggles with writing?
Hewitt Homeschooling is a great place to start. Hewitt Homeschooling was started in 1963 by a group of business men and women. They were concerned about children's education. Their emphasis is to combine academics with character development, work ethic, and developing a spirit of community service.
Hewitt Homeschooling offers a wide variety of resources. They have curriculum, achievement tests, Literature, and My Frist Reports. We got to try out My Frist Reports, which is geared towards grades 3-5. However, with parental help younger kids can use it.
Upon receiving them I was really impressed they come in white envelopes for easy storage. As well as they come pre 3-hole punched, so you can put them right into a 3-ring binder. I love things that come to me ready! The two we received were My First Report Solar System, and My First Report Lewis and Clark Expedition. Each one had around 60 pgs.
The best part about these are they come with so many ideas. They give you some ideas for each subject to make it into a long unit study, or you can just use it as a report. We choose to just use the Solar System as a report. They are meant to do one page a week. We did a couple pages in one week spending a bit more time on them. So we could focus on those particular planets that day.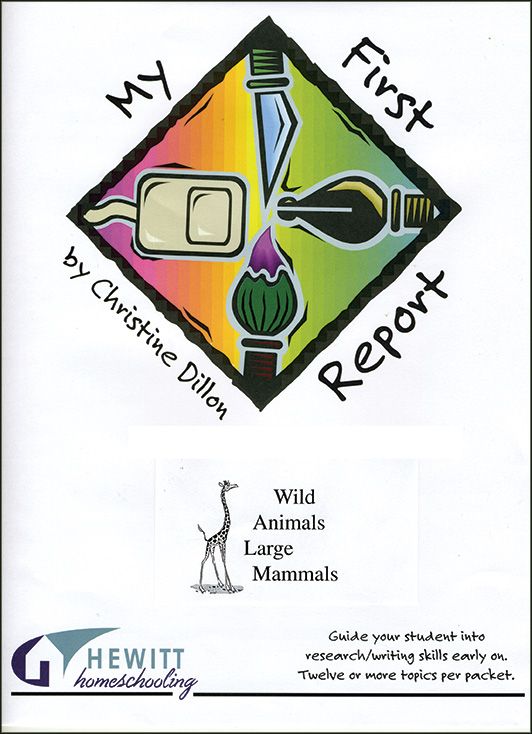 They also include a sheet with more resources to use along with it. Such as websites, and books. Most books on the list, were easy enough to find at your local library. I love when they help you out with that. Makes planning my lessons A LOT easier!
We finished our My First Report Solar System this week. The kids really enjoyed it, and did much better with it than if I had sent them out to do it on their own. I also think they pulled more information out of it this way. My oldest is in fifth grade and he doesn't do as well with writing. I think he really just doesn't know where to start, so this was great for him! My youngest is in second grade and this was a bit of a struggle to do it alone, but she did well with me helping her. She got a lot out of it as well.
Hopefully we can start our My Frist Report Lewis and Clark Expedition this next week. Right now I am pulling more resources, so we can go a bit more in depth with this one. I'm really excited about it!
After looking through all the different ones they have to offer, I am very excited to add some to our curriculum! Here are just a few…
Small Mammals
Weather
Olympics
Birds
Famous People
Middle US
My State
You can purchase the My First Reports for $8.95 each. Or you can get a set of 14 for $69.95. I really think these are a great addition to any homeschool collection.
You can contact Hewitt Homeschool here. Or call them at 1-800-348-1750
See what the rest of the TOS Crew is saying about them!
*Disclaimer: I received My Frist Report free of charge, in exchange for my honest review as part of the TOS Crew. All opinions are 100% mine or my monkey's.