I'm not a huge believer in using a lot of computer programs for school. Mostly because I don't think that all my children's learning should be done by a machine, or that they need that much screen time. However, sometimes we do need to have a bit of extra help, or that extra push they need to learn more.
So, when I was offered a chance to review Time4Learning, I decided to give it a whirl. We have looked at it a few times before. When my son did attend public school in Florida, they used this program in his classroom. This time around we reviewed the 3rd grade homeschool curriculum from Time4Learning.
About Time4Learning:
This program is a technology based online program. They primarily do preschool and go to 8th grade, but have added in a few high school classes. They combine their animated lessons, with activities, and worksheets. You can use it for either a full curriculum, afterschool help, homeschooling, summer school, or just a supplement curriculum.
They cover the subjects of Language Arts, Math, Science, and Social Studies. If your child excels in one area, but not in another, you can move their grade level up in that subject.

To use this program, you need to be able to access the internet. It will work with either a Mac or PC. It is very easy to setup. Once you fill out the information page, and setup payment you are good to go.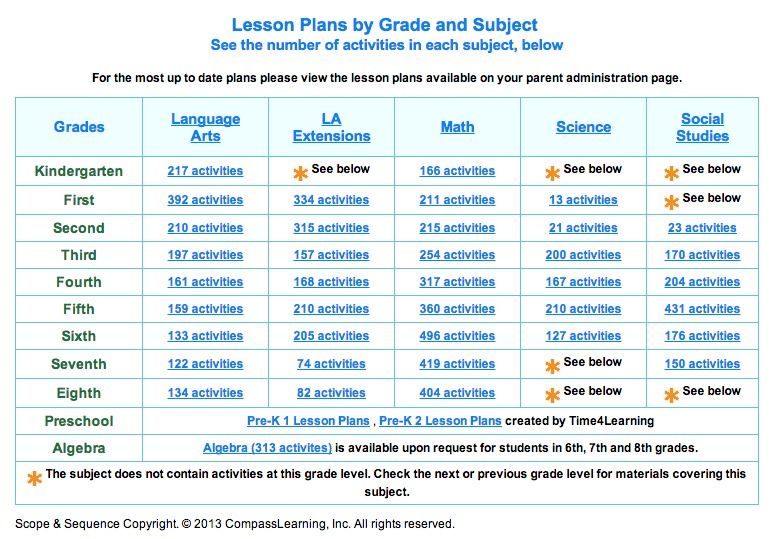 As a parent you have access to a parent page which offers:
Detailed reporting for your record keeping
Extensive lesson planning
Teaching tools
Spelling words
Supply lists
Reading lists
and More!
Another great tool is the Odyssey Writer. I really think this is a great addition. I am not the best grammar teacher in the world, so this helps with getting them to work on writing. You can have a writing assignment set for whatever the subject they are working on. Inside the writer, it gives them all the major steps for writing. At the end they are graded by a Rubric, and shows them what they missed or need to work on.
There is also a playground area for them. Where they play games while also learning. I have Little Monkey's time limit set to only 10mins a day for that part. However, it is enough for her to get some playing in!
Little Monkey's Thoughts:
She really has enjoyed using this program. She loves to get on everyday and work on more of her subjects. She will usually get on for about an hour, and work on whatever she can get done in that time.
Everyday she begs to get on and do her work on this program. I never have to fight her to do it. "Its super fun", she says!
My Thoughts:
Like I stated before I am not a huge screen time advocator, so this was hard for me to get used to. However, she has picked up a lot in the math, and language arts part of the program. It is really a great boost to her work she is already doing. I like that it is pretty self explanatory, so she doesn't need me to sit and help her along they way. I can put her on there, and walk away to get my things done.
I LOVE the parent part of the program where I can print off lesson plans. Get any extra words, reading lists, or things she needs. I print of the extra worksheets ahead of time, so she has them ready to go.
Another great feature is that you can go in and set a schedule for your child. If you want to use it for a whole year, you choose that and what subjects you want them to work on. If you want to only use it for a half year, you pick the time frame, and choose the subjects you want. Either way, in the end it calculates how many classes you need to have your student work on for the week. I did this for my daughter, and then I printed out her schedule. Every week I print a progress report (more on that in a moment) and check to make sure she is on task with her assignments. This also gives her a bit more flexibility for her to choose how much she wants to work on in one day. She could do all once subject one day, and another the next, or she can just evenly space out the assignments for all.
Back to progress reports. . . These are a great asset I think. I love to print hers out each week, and see how she is doing. If her test scores, are really low, I can have her go back and redo the lesson (to reinforce the learning, and try again). They also tell me what has been completed. This is also a great thing for homeschoolers, since we can print them out and add them to our portfolio's.
Overall, I really do like this program. It is setup well, and works good for what we need right now. I would recommend it to anyone looking for that extra help they need, or if you just want something to help with what you are already teaching.
Price:
The cost starts at $19.95/student per month. For each additional child it is $14.95/month. For the PreK- 8th. There is no contract, so you can cancel at anytime.
Or the New High School Student $30/per month for 4 courses.
**You have a 100% money back guarantee, in the first 14 days. If you try it and you do not like it.
Your membership gives you 24/7 access, and costumer service.
See what the rest of the TOS Crew is saying about Time4Learning.