Is there really anything better than playing a game, and learning at the same time? I have always found that my kids learn so much more by playing games to get information. Anytime, I find a game that could be helpful to this we pick it up.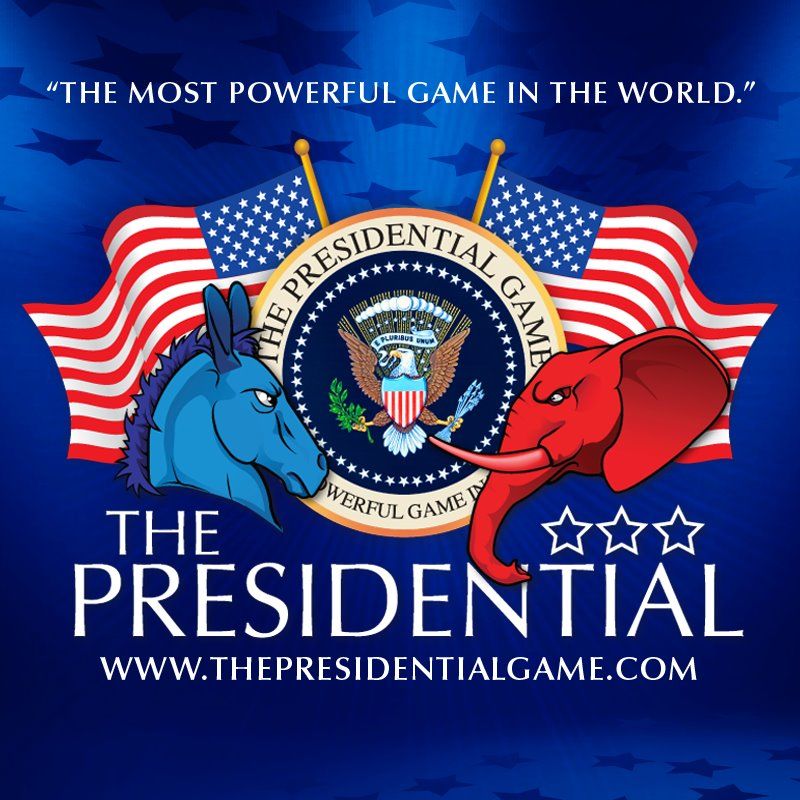 This past month I was offered the opportunity to review The Presidential Game through the TOS Crew.
What you will find in the Game:
Game Board
Vote Cards (1 Democrat & 1 Republican)
300 Chips (Red & Blue)
6 Dice (Red & Blue)
40 Write your own Politics cards
80 Politics cards
Score Card
Electoral WebMap Calculator Access Code
About The Presidential Game:
This game is geared towards children ages 11 and up.
It teaches you the ins and outs of politics. (Which even I could use help with) The game is played in teams of Republicans and Democrats, once you chose which your going to be, you need to decided whether you want to campaign or go fundraising. Tough decisions even as a game! However, teaches the children how the whole process works. This game also teaches really good strategizing.
Once you figure out what side your going to be and if your going to fundraise or campaign, you roll three of the dice. Whatever number you get on the dice is how many votes you get. This is where campaigning or fundraising comes in. If you are campaigning you choose which states your going to place your votes on. If you are fundraising, you have to place half of your votes on one of the 4 fundraising states. Then choose where the rest will go. Once finishing that you have to pick up a politics card.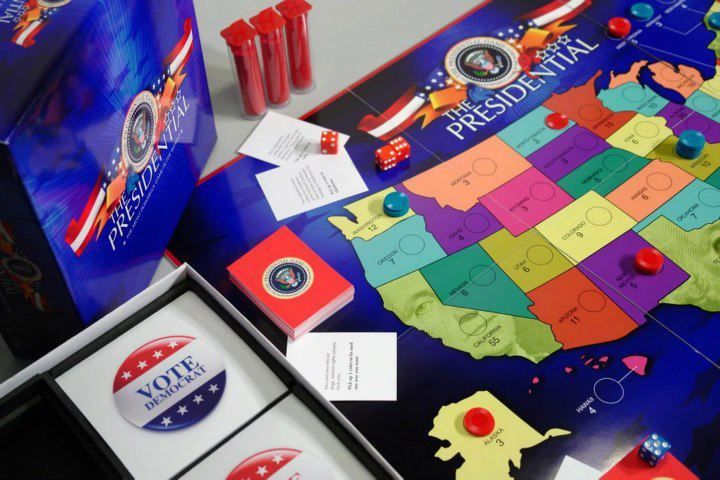 The Politics Cards are cards that give you what the media is saying about your election. On the card it will state something like "Add 4 more votes to (some state)".
Another feature you can do is the Electoral WebMap Calculator. That is what the access code is for, like I mentioned above. You can play using it, and the computer will keep track of the votes for you. Otherwise you have to use the scorecard. We have played both ways.
Our thoughts:
We really couldn't wait for this review to arrive. We are always about playing new games, and I especially love when they are super educational. Not just for my children, but for me as well.
After reading the instructions which were a bit overwhelming at first with my kids excited to play and pulling everything out, we got to playing. The game is really easy to understand after you sit and play it a couple times.
The first time we played by campaigning. The second time we tried the fundraising option. It is nice that you can play either way. My oldest who is 11 really enjoyed it and thought it was neat. He enjoyed racing me to see if he could become president. Seeing how all the voting plays a huge part in how things go, he really started to understand the process better. When we have watched the presidential campaigns in the past, we have been confused by all the information that is thrown at you. I think we will have a better understanding of the electoral map next time. My youngest teamed up with daddy, and while didn't always get what was happening enjoyed playing it, and learned about republicans and democrats. So it had an educational value for everyone that played.
This will absolutely be a new game we put in our "favorites" pile.
Cost:
You can purchase The Presidential Game for $35 plus shipping.
This would be an excellent addition to any Government or History class!
See what the rest of the TOS Crew is saying about this game!