Art is such a wonderful thing. I have 3 kids who really love to dive straight into art! This past month we have been reviewing the Global Art: Activities, Projects, and Inventions from around the world by Gryphon House.
Gryphon House was established in 1971, and started distributing quality children's books. Today they have nearly 200 titles.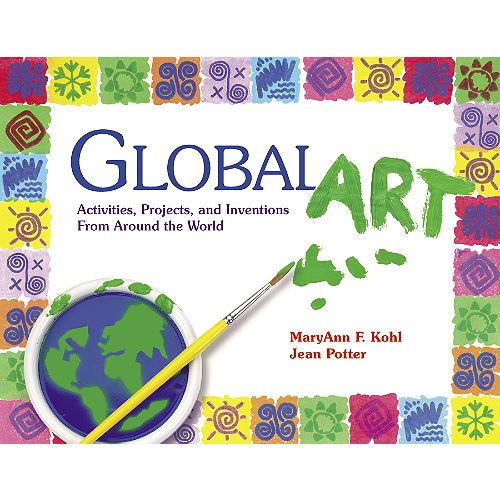 About the Book:
Global Art: Activities, Projects, and Inventions from Around the World is a 190 page paperback book written by MaryAnn Kohl, and Jean Potter for grades K-5.
This book has lots of art projects using painting, drawing, printing and construction. It includes 130 art ideas from around the world. It covers 7 continents, has a few projects for each one. Each page shares with you a bit about where the craft originated from. There is also an icon for each one to give you a skill level.
What we thought:
As soon as my kids saw this book, they took off running with it. My middle monkey couldn't wait to see what it had to offer. They all looked through it, telling me the ones they thought they would like the best. Once I wrestled it back from them (HAHA), I looked through the book myself. Upon first glance, I was really impressed with the number of projects, and what they had to offer.
For the purpose of the review we did a few projects (but of course I can't find the photo's I took), but since Monkey Man is doing World Geography this year, we are going to tie a few more of these in with that.
Their favorite one so far was doing the Scarab stones from Egypt. They had fun creating those, and then they put them in our garden for decoration.
This book has helped us with some bored rainy days this summer as well. Never know when you may need to pull out a great project to work on.
My kids love this book!
My thoughts:
I really like how this book was laid out. Easy directions that were step by step with illustrations. The materials were all mostly ones I would have on hand, or easily could be found. Which is huge for me, since I don't like to have to look for rare items, or spend a lot of money on things.
I also think this book would be a great addition to a history curriculum, or geography. As I stated above, we will be using this with Monkey Man when he starts his World Geography in a couple weeks. I'm very excited to be able to tie some of it in.
Overall, I think this is a really well done book. We all have enjoyed it very much!
Price:
You can purchase this Global Art for $16.95 from here.
You can find Gryphon House on Facebook, Twitter, and Pinterest. For more books and ideas!
See what the rest of the TOS Crew had to say about this review.