Foreign language is never easy to teach, unless you have taken multiple years of it yourself right? I took a year of French, and a year of Spanish in high school. To this day, I only remember one phrase in French, and so much more of my Spanish. So, when the decision came to teach my kids Spanish. . . I really wasn't sure where to start! Lucky for us, we have had the opportunity to check out a few products. The most current review is Spanish For You! more specifically their Fiestas curriculum.
Debbie Annett is the author of Spanish For You. Debbie has a lot of experience in teaching Spanish, and is a state certified teacher with a bachelor's degree in Spanish! Seeing the need for an economical, and easy to use curriculum is why she wrote this.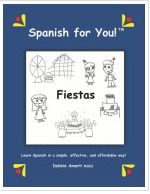 About the product:
It's a full year curriculum, that is theme based around specific themes. Fiestas is about celebrations, and is focused on 3rd-8th grade. They are currently working on more themes.
I was given the Spanish For You! Fiestas book which is 45 pgs. Along with the lesson guides for 3rd-4th, 5th-6th, and 7th-8th to use. We chose to use 5th-6th, since we have already had some lessons.
Check out this sample of Spanish For You! Fiestas.
How we used it:
Upon receiving the download I decided to print out all the lesson plans, and the book. I put the book in a 3-ring binder for my two monkey's to share. Then I printed off two of every worksheet for them.
After that, we decided that we were going to do Spanish 3 days a week. Since Monday is our busy day, we didn't want to add more to that day, and Friday we like to keep open for field trips, and fun learning. That works well with her recommendations though, she suggested using it 3-4 days per week.
Each day is broken down into tasks. . .
Playing a game with flashcards

Reading

Listening to the lesson audio

Completing a worksheet
You only do 2-3 worksheets each week of lesson plans.
What the Monkey's thought:
Monkey Man, and Little Monkey really enjoyed this curriculum. Having already know a little bit of Spanish before we started made a few things easier, but sometimes it seems like it could have been organized a bit better. They also thought that the self checking worksheets but be done a bit differently, cause it is to easy to look and see what the answer is.
The kids really had fun with the birthday section, cause their has been lots of birthdays in our world over the last month. They loved going up to the kids and saying happy birthday in Spanish. It was cute to watch!
I hope that they continue to enjoy it. We plan to finish up the 5th-6th, and move on to the 7th-8th level.
What is included and Cost:
For $34.95 for each specific grade level, or you can get all 3 grade levels for $64.95
What you get included for both. . .
Soft Cover Book or E-book


Lesson Guides for the grade you need (PDF Download)


Self-Checking Worksheets (PDF Download)


Audio Files of entire book (MP3 Download)


Flashcard/ Activity pictures (PDF Download)
So as you can see it is very reasonably priced.
See what the rest of TOS CREW is saying about Spanish For You!