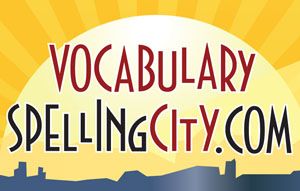 My kids do pretty well with spelling, at least in the sense that they don't fight me on it. They enjoy seeing what words they have on it every week. The spelling we have is very basic. I pull from a few couple websites. It only has them copy the words, and unscramble them. Therefore, by the end of the week they struggle with their test.
We recently got the opportunity to try Vocabulary SpellingCITY. This program is all online based. I'm not huge on online programs, cause my kids often only want to play on the computer. After checking this program out, I was very impressed with it. As a teacher you can go in and add students, lists, and assignments. You can enter your child's words for the week, from 5 words to 10, 15 and more! Another wonderful feature is that you can also have your kids learn the definitions of the words. For me that is very helpful since I have three children, and never enough time! I love that with this program, I can go in and add assignments as far head as I want.
One really cool feature from this site is that you can get the app for your Iphone, or Ipad. So they could be learning their words while on the go, or waiting for a doctors appt. Nothing I like better than learning while we are on the go.

Then once you put their lists in and assign them work, the child can log in under them and see what you have assigned. My son loves that he can log in and see what I have assigned him and his due date. Then he can work at his pace. Sometimes he finishes all his work in one day, other times in a couple.
My kids really love Vocabulary SpellingCITY because all their learning about the words is based around games. So they are learning them and remembering them without even knowing it. It is fun little games that teach them there words, like hangman, crosswords, and much much more! Then at the end of the week they can take their test right on there. This is also very useful thing for me, since trying to get three tests done can sometimes be hard.
You can use Vocabulary SpellingCITY for free. The free version doesn't come with any extras such as definitions or vocabulary. However, a great way to test the site out to see if you like it.
Or you can get their premium membership for $29.99 a year for up to 5 children.
This was absolutely a hit in my house! Both my monkeys and I love this site. It has really helped improved their test scores. This will be a keeper for us, for up coming years!
See what the other people from the TOS Crew have to say…
*We received a free premium membership to Vocabulary SpellingCITY as part of the TOS Crew in exchange for an honest review. All opinions are 100% mine or my monkeys!