We are serious history lovers around here! What about you? Do you enjoy history?! I was super excited when we were offered the change to try out Thomas Jefferson Education. What is that exactly you ask?
Thomas Jefferson Education was discovered by Oliver and Rachel DeMile. TJEd (pronounced "Tee-Jay-ED") is an educational philosophy and methodology. They believe in the 7 keys of Great Teaching..
Classics, not Textbooks
Mentors, not Professors
Inspire, not Require
Structure Time, not Content
Quality, not Conformity
Simplicity, not Complexity
YOU, not Them
Now what is included in this "This Week in History"? You receive an email every week with a list of days of things that happened in history. Then under them will have links for things that go along with that part of history. Such as pictures, coloring pages, activities, projects, video's and so much more! You can subscribe to this all for $9.99/month.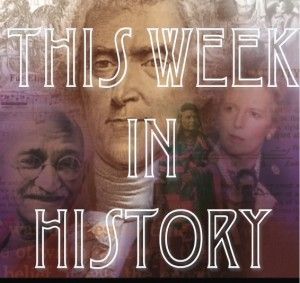 What did we think of it?
Being that we love history so much in this house.. this was a great addition. We had lots of fun with our weekly emails, and seeing what happened in history on specific days. To be able to also tie in more things like books, video's and projects was just an added bonus!!! The monkeys all give this a thumbs up! Check out a sample week here.
My thoughts?
I'm not sure that I can justify the cost of it for a whole year. I really think it is an amazing resource, but I wouldn't want it to be the only curriculum we use, so it would be an extra. That is kinda costly for an extra. However, even with saying that there is lots of great things about it. I love that it comes right to my email each week. Therefore making it accessible anywhere you have internet access. Another big thing for me was that I didn't have to plan to use it. The work was all done for me, and the links were just there for me to use. I love that, since I'm a very busy mom. This is a huge plus for me!!! So, while I'm not sure I could afford it. This would absolutely be on my list, if I had the extra money.

See what other TOS Crew Members are saying about it.
*Disclaimer: I received a free subscription to "This Week in History" in exchange for my honest review as part of the TOS Crew. All opinions are 100% mine or my monkeys.