Technology plays a huge role in our lives now. I hate to see kids spending lots of time on the computer, but the reality is we have to teach them certain skills to have that leg up when they get out of school. My hubby went to school for fixes computers, I'm pretty computer savvy, but one of us needs to learn our way around the computer! LOL!

Our latest review from Motherboard Books was to review their E-book Let's Make a Web Page.
About the Program:
This is a quick program designed to teach children about web design. The book was written by Phyllis Wheeler, who is nicknamed "The Computer Lady". She is a homeschooler and mechanical engineer. After looking for a curriculum that taught homeschoolers these skills, and not being able to find one, she developed one.
In order to use this program you need to download a free trial version of software called Coffee Cup Visual Site Designer. However, you can only get the free trial for 30 days, otherwise it is $49. The program is compatible with windows computers, but not Macs. There are other programs out there to use, but this is the one she recommends and gives instructions for.
This program is meant for kids ages 8 and up. I found that mine needed a bit of supervision. Little Monkey who is 8, needed the most help. Monkey Man could get around fairly easy, but didn't understand a few things.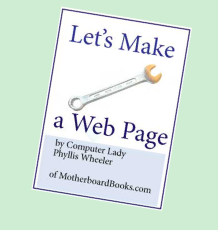 What you will find in the 60 page book. . .
An Interview
Download and Set Up the Program
Add Text
Make a Table
Add a Photo
From the Internet, Add Animations
Browser Check, Backgrounds, Photos
Sound
Links
Post Your Work
How to Upload to the Internet
Our Thoughts:
We really had fun using this. Monkey Man now wants to set up his own web page. I learned many things that I didn't know. I was very impressed. I think we would love to expand on this in the years to come. Little Monkey still had a ways to go with using it independently.
Cost:
You can purchase this E-book for $19.95
See what the rest of the TOS Crew had to say about this program and Logo Adventures.