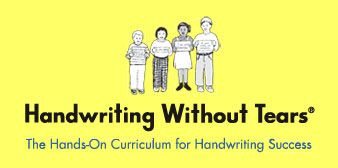 Does your child struggle with handwriting? My son had the best boy handwriting some teachers have ever seen. My girls though, that is another story! Little Monkey who is just finishing up 2nd Grade, has been struggling with some of her letters for a while now. She writes her b & d backwards all the time, and also the numbers 2,3,4, & 5! I had heard great reviews about Handwriting Without Tears, and thought why not give them a try. The name alone gives me confidence I won't want to pull my hair out while using it. Haha!
Let me give you a bit of background about Handwriting Without Tears. It was founded by Jan Olsen, an occupational therapist. So she has first hand experience with the struggles kids have when learning to write. Why does it work so well? Well, they use multisensory tools and strategies to help it be more effective. Such as teaching strategies, word design, teaching order, letter style, line success, and research.
I have to tell you, upon receiving the 2nd Grade Printing Power workbook, Little Monkey was ready to dive in. "Mom, Mom, can I start it NOW!" was all I heard. I have never seen a child so excited to do work! The lessons are only meant to be about 15 minutes a day, so the kids don't get frustrated our angry with them. My daughter so far, has wanted to do more than that!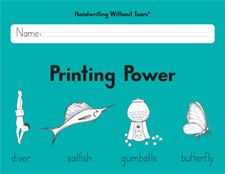 How we used it:
As I stated Little Monkey was very anxious to get started on this one. We use it 4 times a week (cause we have fun days on Friday's). Every day she does a new lesson, and usually asks to do another. Depending on our schedule, I sometimes let her go another lesson. Here are the letters when she started.
You can get extra things to help with the learning online at Handwriting Without Tears website. You can have them watch video's on how to write certain letters, print off more worksheets, lots of things. I have had Little Monkey watch a couple video's since she still struggles with a few letters. In another week, I'm going to give her a proficiency test, that you can get free here. To see what she needs more work on. I can already see some great improvements in some of her letters. Here are a few other sheets she has done…
My thoughts:
I was very excited to try this with Little Monkey, because when just handing her sheets of words to copy, she would get frustrated. I mean what kids wouldn't right? I wasn't sure how else to teach her though. This was a life saver! When I received the book and started to look it over, I was very excited to see that it was fun, and not to overwhelming. I love the little boxes they learn to make the letters in first, kind of showing them the space. Her letters were always to big or way to small, so this helps her to see how big they are suppose to be.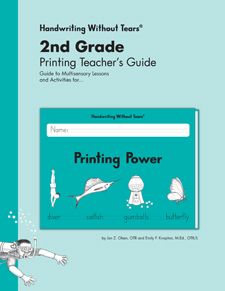 I also received the Handwriting Without Tears Printing Teacher's Guide for 2nd Grade. I'm not going to lie, for handwriting this was a bit overwhelming at first to see. The book was thick! I was thinking, what could I possibly have teach her that much about? It was full of great information though. The first 20 or so pages are filled with how to use the book. It has 36 lesson plans, with corresponding activities if you want to use them. They had some great things to go along with the lessons. My daughter just wants to write, so we haven't really been using the lesson plans to much.

Here are some of the Activities you can find in the book:
The Hand Activity

My Teacher Writes

Teaching with Technology

Air Writing

Letter Stories

Diver Letters' school

Voices

Laser Letters
They have so many wonderful resources available. I really love a company that helps you like that. I'm very happy with the book. We also received the Kick Start Cursive book with our set. After looking through it, I'm pretty sure I will be purchasing the Cursive Curriculum for her next year. They books are very reasonably priced too.
Little Monkeys Thoughts:
She loved the book, and can't wait to do more lessons. She finds it fun, and never complains to do them. She is very excited to start the kick start cursive. (Always head of herself)
Price:
2nd Grade Printing Power Book (42 pgs.) – $8.25
2nd Grade Printing Power Teaching Book (190pgs) – $9.25
Printing Power Plus (with the kick start cursive 32 pgs.) – $10.25
Check out what some of the TOS Crew Members are saying about it.