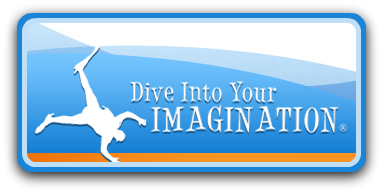 I'm so excited to be telling you about this product. We struggle with Science.. not that we don't like it. Just because for some reason, its hard to do sometimes. This year, we have been meeting with another family for science class. This has helped to keep me doing it often, and on track. Plus the kids have way more fun, when there is a few more people to do it with. This year we have touched upon so many subjects.
I'm sure you are asking yourself what is Dive Into Your Imagination. It was started by Anne Crawley. She started Dive Into Your Imagination to try and give the new generation a different view of the ocean.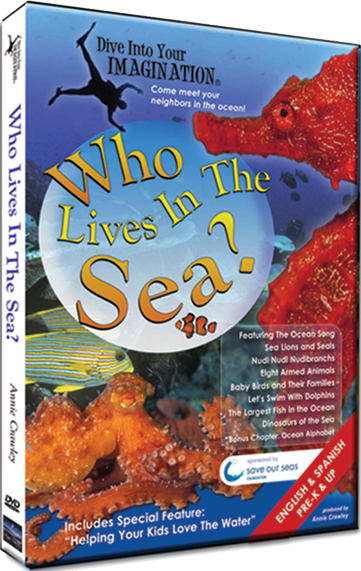 Who Lives in the Sea, is one of three DVD's offered by Anne Crawley. You can also find Dive into Diversity, and What makes a fish a fish. We were able to check out Who lives in the sea. On this DVD, you can learn about Dolphins, Sea Lions, Seals, Nudi Nudi Nudibranchs, Whale Sharks, and so much more. The DVD is only 45 Minutes long, and is broken into 8 sections. They are not super long, which makes them great for kids who don't like to sit still. Yet, they still are pack full of information. They can be seen in English and Spanish. These DVD's are geared towards children ages Pre-K and up. You are able to get PDF Educational Guides to go along with each DVD.
My thoughts:
First off I was super excited to watch this just cause I found the cover to be very catchy. Loved how bright and eye catching it was. Another plus for me, was that they are short clips, so if you have kids who are not fond of sitting still. My kids loved watching this DVD. They really enjoyed it, and they retained so much information. They are still telling people little facts they have learned. Another bonus was the amazing PDF Educational Guides. They are jam packed full of information and activities. They are also made for multiple age groups. Which for me is really helpful, since I teach 3 different grades. It is broken into 2 different groups, Pre-K and Kinder guide, and the 1st- 3rd grade. Some of the information you will find in this guide, is vocabulary, discussion questions, and book recommendations. As well as lots of activities, such as puzzles, math, and more! I also love that it gets the kids to use their imagination!!! Some of the answers to the questions I asked were great, and made us all laugh!
The Monkey's Thoughts:
We really loved the DVD. I like all the cool pictures! I really learned a lot. They make the activities fun, and I really like doing them. I hope that my mom gets the rest of the DVD's.
Price:
You can purchase these DVD's for $19.95 each. The Educators Guide is a bit pricey (however, there is a lot of information in it) at $299 for all the guides for each DVD. Or you can purchase just one for $70. Right now if you purchase any one of the DVD's and mention in the comments that you homeschool, and would like to have a PDF version of the Educators Guide. Anne Crawley will send it to you free!!! *** Important*** Don't order the guides from the annecrawley website.

Want to see what the rest of the TOS Crew thinks??!
* Disclaimer: I was given a copy of Who Lives in the Sea, and an Educator Guide as part of the TOS Crew in exchange for my honest review. All opinions are 100% mine or my monkeys!