Being a Homeschool mom, we are always looking for new and exciting ways to learn information. My son is a science lover, and he adsorbs it like a sponge! Which is really awesome, but hard for me to find things that interest him, and to teach sometimes. What I do love, is that I always end up learning something new!
Recently we tried out the Steps to Scholastic Success Slide Show of Science by the Learning Workroom LLC. This is educational information for kids Grades 3-5, helping them to succeed in the classroom and State Tests. The Science Cd has Earth & Space Science, Life Science (Biology), Physical Sciences, and Technology and Engineering.
The Science CD was awarded a 2010 Media of the Year Award from Creative Child Magazine.
My son really liked this Cd cause it was full of information, and very interactive for him. With questions for him to answers, as well as words to unscramble. I really liked this Cd, cause it had lots of information, was geared for kids his age, and is easy enough for him to use without me having to be right there. I also liked that the harder words, had easier terminology in parentheses next to the word. Each section had between 60-80 slides of information. We were really happy with our Science Cd. It will provide hours of learning and fun for all 3 of my monkey's!!
Marcia Tucci Murphy the Owner of The Learning Workroom LLC also has a blog you can flow with information, and helpful tips. She also has a link on her website that has free worksheets to go along with your Cd, or just if you are looking for some help in certain subjects. The System Requirements are:
PC with 500 MHZ or Higher Processor

Microsoft Windows 7/vista/xp

Microsoft PowerPoint or Internet to install Microsoft PowerPoint Viewer

512 MB RAM

1024 X 768 Screen resolution

CD-Rom Drive

Mouse
There is four Cd's available total.
Science Grades 3-5
Math Grades 3-4
Math Grades 5-6
English Language Arts Grades 3-6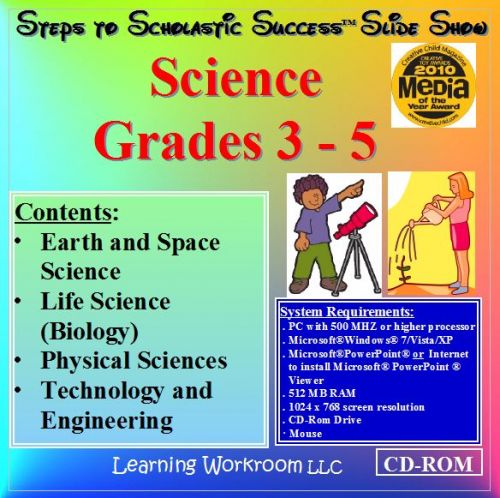 Buy it:
You can go to this site to purchase any of those four Cd's. They are $34.95 a piece.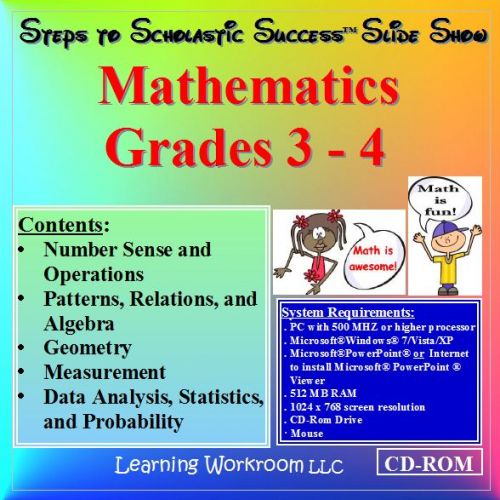 Win it:
I have been given the opportunity for one of my lucky readers to win a Cd of their choice!
To Enter:
Tell me which Cd you would like to win? (Mandatory to enter, make sure to leave an email address)
Extra Entries:
Giveaway ends December 17th @10pm EST. Giveaway is open to everyone. Winner will be chosen by Random.org and will have 48hrs to reply to me, or a new winner is chosen.
*
This is a Mama Buzz review. The product was provided by: The Learning Workroom LLC for this review.