First off I have to say I was SO SO Excited when we got the chance to review MusIQ HomeSchool by Adventus. I was never musically inclined, so I wanted my children to have the chance to try different things. My Monkeys believe it or not are very musical. My middle monkey loves to sing, and if given proper lessons (voice lessons are hard to come by around here) then she would do amazing I believe. My youngest also likes to sing, but is also very good with the piano. My son has just amazed everyone. . . he doesn't strike you as the piano player but does so good. My oldest and youngest have been taking piano lessons for a year now. They have been doing really well, but due to the cost, I can't do lessons as often as I would like.
That is were MusIQ Homeschool comes in. Now they can practice more at home, and still do piano lessons.
About MusIQ Homeschool:
I'm sure your thinking what does MusIQ Homeschool have to offer. Well, it's a seven-year curriculum that includes more than twenty lessons. Ranging from beginner to advanced intermediate. The program is broken down into. . .
Early Curriculum for Ages 4-10
- Children's Music Journey Volume 1
-Children's Music Journey Volume 2
-Children's Music Journey Volume 3
-Beginner Level 1 Lesson Plans

Multi-Level for Ages 10+
-Piano Suite Premier
-Ear Training Coach 1&2
-Ear Training Coach 3&4
You can use MusIQ Homeschool a couple of different ways. You can get the monthly prescription that is $10.95. Or you can purchase the CD-Rom or Download. If you purchase it, the nice thing is you can use it for multiple children in your home. Which is a big plus for anyone with more than one child!


Prices For CD-Rom / Download:
- MusIQ Homeschool Early Curriculum Year 1-3 Bundle with Piano Keyboard is $309.95
-Year 1 Quick Start Bundle with Piano Keyboard is $169.95
-Year 1 with Lesson Plans is $69.95
-Year 2 with Lesson Plans is $69.95
-Year 3 with Lesson Plans is $69.95
-Year 1,2,3 with Keyboard is $279.80
-Year 1,2,3 is $179.95
-You can buy Lesson Plans only for $29.95
You do need a MIDI Keyboard to use the program though. You can purchase one through Adventus.
You can also try a free 7-day trial here.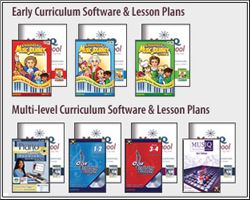 What you will find in Children's Music Journey:
In 3 volumes of Children's Music Journey you will find 95 interactive lessons. Each lesson is taught by one of the following composers, Beethoven, Bach, Joplin, Mendelssohn, Villa—Lobo's, Satie, Dvorak, Mozart, Beach, Tchaikovsky, Handel, Chopin, Scarlatti, Haydn, Bartok, Chaminade, Debussy, and Schumann. Then they get 95 practice sessions, 150 Learn to play songs and famous pieces, 30 games to help reinforce theory, Composing and Improvising.

How we used this program:
My monkeys used this program twice a week. . . it suggests 1 lesson a week, but mine are way to eager! My two monkeys are 8, 10. Here is how a weekly lesson goes:

25 Minutes (approx.)
History Time/Rhythm 10-15 min
Improvisation 5-7 min
Closing 2-5 min



What we thought:
I used this on both my Monkey's, even though Monkey Man is almost 11. I wanted to make sure we were starting at the right place. So he has just been going a bit faster than little monkey.
Little Monkey loved this program and really wants to use it all the time. Which has helped our "normal" piano lessons a lot! I'm very happy about this!
Monkey Man, has enjoyed doing this as well. He already loves piano lessons, but this has helped him to practice, and get better in areas he wasn't over confident in. He will go through Children's Music Journey quite quickly, but we will move him on to Premiere Suite as soon as he finishes.
My kids fight over who is going to start every time we do this curriculum. They both want to go "first"!
I have always wanted a crack at playing the piano, so I decided to give it a try! I was very happy with how easy it was to use, and that I truly enjoyed it. I can see why my kids are having so much fun with it.
This is absolutely one of our most favorite reviews so far this year! We will certainly be using it for years to come!!!

See what the rest of the TOS Crew is saying about this product.