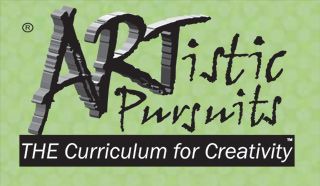 There are just some subjects that come easier to teach when you are a homeschool parent. Like for me, I am good at teaching Reading, History, and Science. While I struggle with things like Math, Art, Music, and English. In the past we have reviewed ARTistic Pursuits elementary art.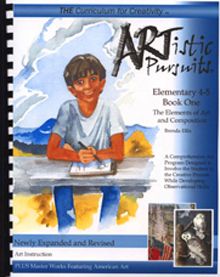 Recently we got the chance to review their products again. This time we chose to review ARTistic Pursuits elementary 4-5th Book One: The Elements of Art and Compositions. My kids have always liked art. My Middle Monkey is really good at drawing, and amazes me everyday. My youngest, while not as good at portions still does a great job, with color, etc. Monkey Man is not the best artist, but loves to try to learn new styles.
ARTistic Pursuits elementary 4-5 book one, has 92 pages, with 68 lessons. They suggest to use the book twice a week, for an hour. I try to always set aside at least an hour to do our art class, so we have plenty of time and don't have to rush. While this book is designed in a way that the child can do it independently, Monkey Man and I always read the introduction to the lesson together. (I secretly love learning about the Art History with him)
This book is meant to teach children who want to draw more realistically, but isn't quite sure where to start that process. Any 4th and 5th grade student can start this book, even if they have no previous knowledge of art. Upon completion of this book your child, will have learned skills like…
While learning about artists like…
They will also learn how to add texture to their drawings, and use lines.
How we used this product:
As soon as this book arrived, I was excited to see what we needed to get started. For the first few units we needed to get Ebony pencils, Vinyl Erasers, Metal pencil sharpener, Sketch pad for drawing, and a Paper sack.
I had most of the things on hand, so I'll I needed to pick up was a new sketch pad for him. I did that in the first couple of days, and then we went to work. I used this on my oldest which is Monkey Man. He is finishing up 5th grade, and getting ready to start 6th. Since, he has not had a lot of art this book worked perfect for him.
He was eager to start as well. The first lesson is learning about space, which is something I think most kids struggle with. Knowing where to start drawing and such. The first assignment was to draw a simple object. Monkey man chose to draw my water bottle. Here it is

. . .
The second unit was on space as well. Going a little further in depth with what they need to learn. His second assignment was to draw a scene from his imagination. He struggled a bit more with this. After a day or so, he finally sat down, and picked up his pencil. While its not quite what I was looking for, he is coming along. He choose to draw a hand with a goblet.

What we think of this product:
Monkey Man really likes this program. He never fights me to use it, or his assignments. We have enjoyed this program, and plan to keep using it. We are even looking into getting the next level.
I love that I can do it with them, or if I am in a rush that day he can pick up the book and use it without me. He has no problem reading the information or doing the work.
If you use the book a couple of times a week, then the book will last 32 weeks, which is almost a whole school year.
Product Info:
Book: ARTistic Pursuits, Elementary 4-5 Book One: The Elements of Art & Composition. 92 pgs.
Price: $47.95
Phone: (303)-467-0504
See what other
crew
members are saying about this product!