Are you a writer? I have always wanted to be a good writer, but I have to tell you I am convinced that you are either born with it, or not. Since school was not a pleasant experience for me, they put me in the dumbest class they could, to slide me through. I was never taught the right way to do a book report, essay, research paper, or any of the kinds of writing there is. To this day, I struggle with it. Just writing my blog is a struggle for me, since I'm not clever with words, or know the proper places for commas, conjunctions, etc. I want more for my kids. When we got the chance to review Essentials in Writing, I was thinking Absolutely!!
My son is getting up there. Can you believe he is in 6th grade?! I can't! Where has the time gone… but I digress. I love learning right along side of him. He hates writing, and I have to say it is not one of my favorite subjects either. With that being said though, I do want to learn the proper ways to write things. Essentials in Writing Grade 6, is for Ages 11-12.
Essentials in Writing's goal is to help you produce confident writers. To teach how to communicate effectively with readers.
What they cover:
In sixth grade they learn so much.
Detailed sentence structure
additional grammar
additional capitalization/punctuation rules
proper use of a friendly letter
composing narrative/descriptive/expository and persuasive writing
five paragraph essays
compare and contrast writing
effective writing skills
multi-paragraph composition
process to complete a research project
and more!
They really touch on a lot of different things. I was really impressed with the amount of material they cover.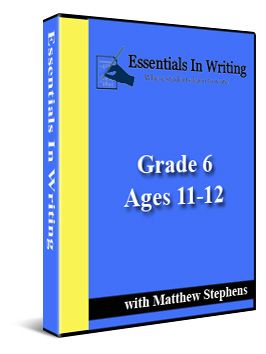 How we used it:
The DVD covers 68 lessons, and the workbook has 213 pages. It is intended to be used 1 lesson a day. Since we don't do school on Fridays (we make it a fun day), we used it 4 times a week. They don't really give you a time table per say. As if your student doesn't understand it, you shouldn't move on.
Monkey Man started with lesson one, by watching the video. Each video is taught by the author, Matthew Stephens. Video's are only 5-10 minutes long. The first lesson does not have an assignment, since it is just an introduction to get familiar with the program. I won't lie, that he was excited he didn't have to do any work.
We have completed the first 10 lessons. As we had to spend a bit more time on a couple, because he didn't understand a few things. Therefore, a few days we spent on the same lesson reviewing.
Our Thoughts:
I like as a teacher the set up. They give you a syllabus to go by, so you can see what is coming up. I always review the information for the next day, so I know what he will be working on. Then I can help him, if he gets stuck. I did find that I was a bit disappointed with the lessons. I didn't think that they want over the material enough. I also was not a fan of how fast they go into the next lesson. Before my son could stop the DVD it was on the next lesson. Other than that, I think that the base is a great program.
Monkey Man liked that he could watch the lessons on TV. The visual that was shown, helped him a lot to. When he reads things in the book, he doesn't always connect the dots (sort of speak). I think this seems to be working a bit better for him. He likes that the bigger assignments are broken down into smaller pieces, so he doesn't feel overwhelmed like he has in the past. He is still a reluctant writer, but he seems to be coming a long way. He told me while it is not his favorite subject, he did like this curricula better than the last one we used.
Prices:
Sixth Grade DVD with printable worksheets/answer key – $40
Printed workbook – $20
Contact Info:
You can purchase products from www.essentialsinwriting.com
You can reach them at 417-256-4191
Or email them at info@essentialsinwriting.com

See what the rest of the TOS Crew is saying about this product.