My girls love their dolls that are very much like the American Doll. They each have one, and it goes almost everywhere with us. Therefore, when we had the opportunity to review Rosie's Doll Clothes Patterns, I jumped on it. My girls are still just getting into sewing, and learning about it.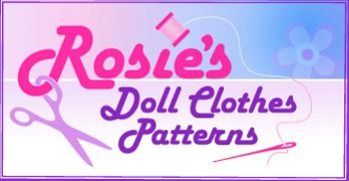 What is Rosie's Doll Clothes Patterns:
Rosie's Doll Clothes is a video course that your child can watch to help teach her how to sew clothes for her American Girl Doll (or similar size). If you have online access, you can get 12 months of over 130 videos teaching you how to sew. This program is targeted towards children 8 and up. I wouldn't say just girls, as my son has started using it to, to make a few clothes for his sisters dolls for Christmas presents.
When you purchase the program you receive 8 downloadable patterns with videos to go along with them, and a pdf.
Each video is fairly short, around 5-10 minutes. Which is great for the child, that can't sit and listen for long periods of time. The course is six weeks long with six or seven videos per week.

They start with the basic's of setting up your sewing room, how to work with fabric, and even how to use a serger.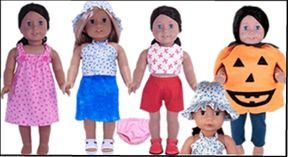 How we used it:
My youngest did this course the most. She is 8 yrs old, and not a lot of experience with a sewing machine. Therefore, I started her out everyday with watching the video, and then she would practice some skills on scrap fabric. When she got a little further along, myself or my mom would sit and help her with the machine.
I think that Little Monkey has really learned a lot over the last few weeks using this program. She can do a lot of basic sewing without to much help now. I really enjoyed watching her learn how to go from a pattern to a finished product. The first time she finished something she was so excited, and she could see her mistakes, but we just learned from them, for the next thing we tried. She has made pants, shirts, and dresses. She is anxious to try more new things!
My Thoughts:
I found that the videos were really good. I really liked how well they covered the things they needed to know. They were clear, and the sound was good.
I love that this gave my girls a spark to be more imaginative, and wanting to try and do more things.
They are very excited to keep trying to make new things, and to make Christmas presents for each other.
Sadly my camera got dropped and isn't working now, so all my photo's are gone.
The Cost:
For a full year of access to 130 sewing videos, 8 patterns with instructions, and PDF's that you get to keep. It is $48 or you can get the DVD"'s for $67.23
You can find Rosie's Doll Clothes on Facebook, Twitter, and Pinterest.