Do you teach a foreign language in your curricula? I have always tried to incorporate it in our learning somewhere. Why? As the world continues to get harder to find jobs, I think this is going to be a valuable resource. I want my kids to have that one leg up, against someone else. Monkey Man wants to learn Chinese and Japanese, and most people think I am crazy for encouraging it, but I think that he will have an edge if he knows these things. Therefore, so far, we have studied Latin, and Spanish. My kids are doing Spanish in Co-op this year, but we needed something to help with getting those concepts to stick.
Then we were able to review The Song School Spanish Book & CD, by Classical Academic Press. The kids were super excited upon receiving this because it included songs. My two daughters are singers (or so they think). Everything is made into a song.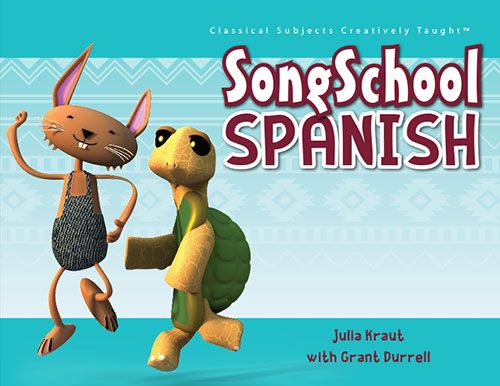 The Song School Book & Cd have 30 weekly lessons. Which includes review chapters, vocabulary words, and activities. Then the CD includes 42 songs. Then in addition Classical Press also has some extra downloadable help. Like pronunciation help, which is great for us, that don't speak Spanish. I'm always afraid I'm going to tell them how to say it wrong. You can find those here at the bottom of the page. If your children like to play games to help learn, they can try out this website HeadadventureLand. This has them play games, read stories, and watch video's, but they all go with Song School Spanish materials, which is great!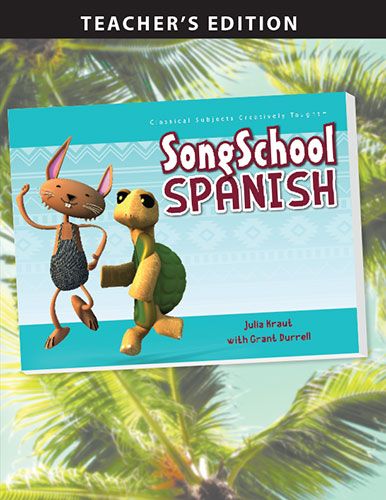 I also received the Teachers Edition. The teachers book includes the whole Song School Spanish student text, with the answer key. Some additional teacher's notes, and ideas for interactive activities (ie..Puppet show) I love that it also included extra activity pages, like crossword puzzles. (my kids love those)
About the Product:
For K-3
Song School Spanish Student Workbook with CD – $24.95
Song School Spanish Teacher's Edition- $24.95
Spanish Amigo Match (we didn't receive these) – $26.95
Bundle Pack – $66.95
Monkey's Thoughts:
My Monkey's thought that this was a great program. They loved the activities that were fun to go along with learning. They hate when some things are only book work. They loved the songs, and singing along with them! Over all I really think this curriculum was a hit!
My thoughts:
This curriculum was very easy to stick in with our schedule already. We used these lessons 2-3 times per week. The kids really enjoyed it, so it was never a "do we have to attitude". The lessons are only about 10-15 minutes long for the most part. We sometimes spent longer, as they didn't want to stop singing! This went along great with our Co-op lessons, and really helped them learn the words easier.
I loved that the book/songs were both English/Spanish.. I know that would probably drive people crazy. However, the way they sang the songs in English, and then again in English, but inserting the Spanish word. Like for example- "This is my house. This is my Casa. " So they learn the meaning with the song.
While my son (10yrs old) would probably not come right out and say he liked this. He did sit and do lessons with us, and enjoyed the songs. (Telling you my kids LOVE to sing)
The CD also came in very useful for us, because we would listen to it in the car as well. Like on our way to Co-op, or even just the store. We have found many ways to sneak or Spanish in now. We do color hunts in the grocery store, and the kids like to ask each other how they are in Spanish. I love listening to them.
Overall we really loved this curriculum, and will continue to use it.
See what the rest of the TOS Crew had to say about it.
*Disclosure: We received a copy of Song School Spanish Student book/CD and Teachers Book, in exchange for our honest opinion as part of the TOS Crew. Our opinions are 100% mine or my monkeys.